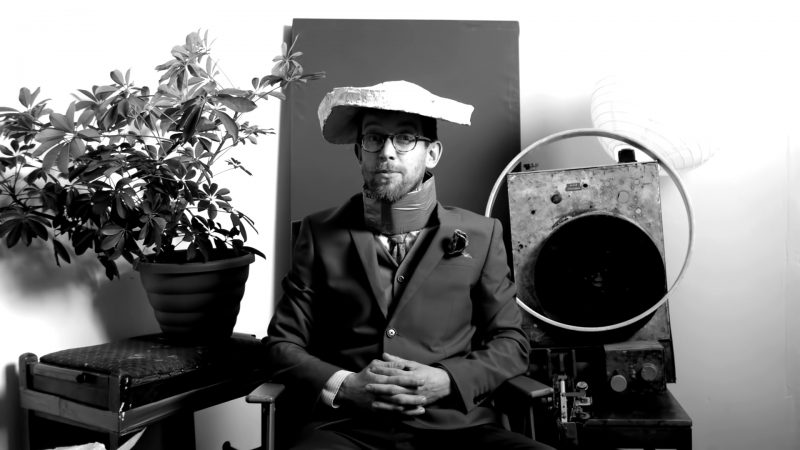 #2: Fight Absurdity With Absurdity And Lies With Truth
The second event in a series of roughly quarterly Out/Side/Film screening events throughout 2017 showing submitted and selected short documentary, experimental film, artists' moving image, found footage and oddities from all over the world.
The films this time have been selected to respond indirectly and occasionally incomprehensibly with the triggering of Article 50, taking a very sideways look at various elements of the Brexit process.
Work by Sheffield-based artists is interspersed with films from further afield. Among them, Peter Martin's Dead Stock deconstructs training videos, where the disembodied voices of white men in suits release motivational imperatives from the void, evoking a world of choice and optimism. Alia Pathan's Tourba depicts a fictional society reconsidering itself as a potential sustainable utopia after imminent ecological and financial disaster. Jane Lawson's film shows us how to detoxify the founding ideas of our current situation, symbolized by Milton Friedman's book Capitalism and Freedom, using only oyster mushrooms. Dallas Simpson's Digging For Victory is a rare ray of light– a loving portrayal of the artist's elderly mother struggling to do what she loves against overwhelming odds. Finally, Ric Booth and David Robert's first film Brie On Head (portrait with cheese) is an absurd shrug in the face of an absurd world – a piece of 'tomfoolery from the void' that the early Dadaists would have been pleased with. Ten Penny will provide an oscillating live soundtrack to Brie On Head using homemade synthesizers.
Submissions for future screenings are invited on any subject or format whatsoever and you don't have to be an artist or a filmmaker to submit. The next event will be on the last Thursday in July. To express interest or submit a film for future screenings, contact info@outsidefilm.org.uk. Please keep an eye on Regather website for up-to- date programmes and future events.
£5 entry
www.outsidefilm.org.uk
Title image taken from Ric Booth and David Roberts' Brie On Head